SPORT Clinic Physical Therapy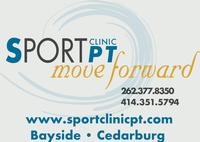 Contact Information
Practice Details
Description
We are Specialists in Programs for Orthopedic Rehabilitation and Training. Our Mission is to help people of all ages reach their optimal level of function and fitness. Whether you have had an accident, repetitive injuries, chronic pain, surgery or if you are trying to avoid surgery, we can help! Problem with your spine, nerve pain in your leg/arm, loss of reaching or lifting, limitation of walking, squatting or doing steps? Come and see us! We work with you to determine your level of function and movement limitations and help you get your pain under control by diagnosing the cause of your movement limitation. We can help you regain your freedom of movement, return to activity, exercise and your sport(s) of choice. We can also help you optimize your physical performance through our specific training programs. See us for a free 15 min assessment or set up a full evaluation. Serving all ages, amateur to professional, for more than 30 years.
Our Specialties
Pain relief with hands on care, Dry needling, electrical modalities Regain movement with skilled care and home programs you can follow Restore strength for all your activity pursuits
Our Staff
John Hendrickson, Lindsey Wolf, PT, DPT Nicki Bennette, BS, PTA Susan Klas, PTA Peter Arndt, PT, DPT
Insurance Accepted
Most commercial insurances; Medicare; Title 19; Contact us at 414-351-5794 for more detailed information about your healthcare plan.